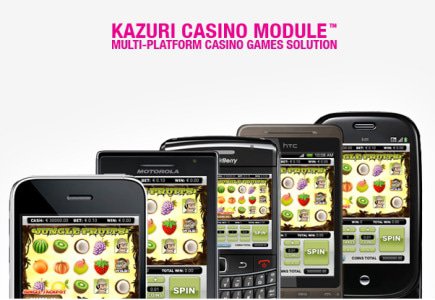 Gaming specialist presents its Kazuri Casino Module
The latest innovation at the mobile and multi-platform gaming specialist OMI Gaming involves its brand new mobile and multi-platform solution, Kazuri Casino Module™, which targets the major digital channels of gaming - mobile/tablets, web apps, native apps, online, and kiosk.
The solution enables players to enjoy their favorite games instantly from their tablet, smartphone or a computer, without needing any additional, 3rd party plug-ins. One of the main benefits of the Kazuri Casino Module™ is that its games are supported on a variety of platforms: Windows, WindowsMobile, OSX, IOS, Linux, Android and modern web browsers.
After its launch, the solution disposes with the Jungle Fruits and Princess Fortune titles, which come as two mobile video slots for the smartphone and tablet channel and as two full sized video slots for the online and kiosk channel.
In Feb. 2012, the company will add the games Benny the Panda (30-lines, 5 reels video slot) and Tres Hombres (243-lines, 5 reels video slot), and as of May, the users of Kazuri Casino Module™ will be able to enjoy European roulette and blackjack.
In addition, the easiness of accessibility of Kazuri Casino Module™ is enhanced by the fact that it can be plugged directly into the players' existing wallet or to any of the major gaming platforms, and that it supports multiple languages and currencies.
According to Commercial Director of OMI Gaming, Tobias Lindgren, "With Kazuri Casino Module™ we are able to provide rapid development of new high quality casino games for both the smartphone and online/kiosk market. For operators who wish to cross sell their casino offer through mobile and online channels, Kazuri Casino Module™ is the perfect match."