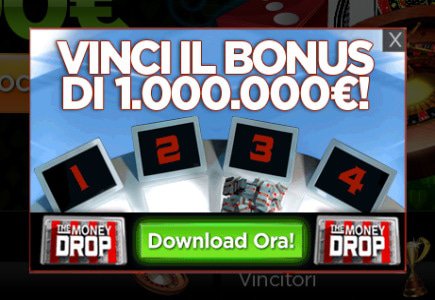 Money drops on "The Money Drop"
The latest announcement from 888's Italian site includes news of a big win hit by Guido G, a 47-year-old player from Turin, Italy who won Euro 100 000 in "The Money Drop" branded game show offering from Endemol, featuring the elements of the TV program of the same name.
It has been stated by 888's Italian chief executive officer Pier Francesco Geraci: "Every time one of our clients wins it is as if we won too. It is thanks to them that 888.it continues to grow and to receive the appreciation not only of other professionals, but also all our players, expert and novice. Guido is the first winner of one of our most fun games and it is only natural that we would want to meet him to deliver the Jackpot prize money in person and celebrate this victory with him."
As for Guido G, his happiness about the win was evident: "I do not believe it, maybe I'm dreaming! I know the game from the TV, but I never tried it online and I would never have imagined winning. I had no winning strategy, just beginner's luck!"