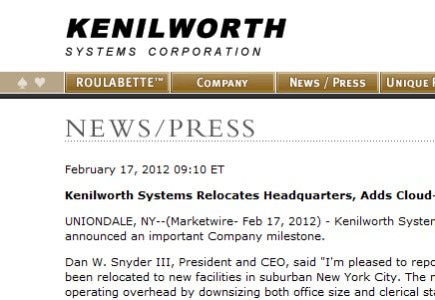 Online software developer, an industry veteran, seeking opportunities that legalization in Nevada brings
Kenilworth Systems Corporation, a veteran software developer, has announced the creation of a new division based in Las Vegas. The mission will be to develop online gambling solutions for land casino clients, obviously seeking advantages of the increased momentum on legalization in Nevada, and the interest of large US land gambling companies in the channel.
Kenilworth owns a patent that allows casinos to set up live, interactive online gaming and wagering systems, and KenSysCo Gaming, a subsidiary now located in Las Vegas, will develop the technology. They will roll out the technology in application form for mobile devices and the Xbox 360 and Playstation 3 video game consoles.
Dan Snyder, president and CEO of Kenilworth, named Las Vegas as the logical location for KenSysCo Gaming for its proximity to potential customers, i.e. casinos.
"Kenilworth's future has been dramatically enhanced by recent dramatic changes in the U.S. online wagering regulatory environment, literally throwing wide the door to our new and innovative technology for remote live gaming. Good technology can bring consumer friendly, safe and secure, wagering to mobile users and the home environment; and Kenilworth's patented technology is core to this play," Snyder concluded.