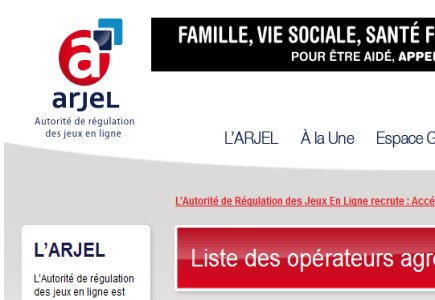 Changes to online gambling sector require a report on the market
After receiving a directive issued by the French Ministry of Budget, Public Accounts and Government Reform in December 2011, in which it requests a report covering the introduction of new games, regulation of online gambling domains and the establishment of a consolidated reporting structure of gaming operations attached to a single entity, amongst others, French online gambling regulatory authority ARJEL has established two special commissions.
The commissions are now in charge of submitting two reports – one on the "Regulation of online gaming and new technologies" and the other "The attractiveness and ethicality of the French sportsbetting market", both tackling the proposed legislative amendments to regulations on the online gambling sector in France.
It has been specified that the first commission, which will deal with regulation and technologies, will be headed up by ARJEL members Jean-Luc Pain and Laurent Sorbier, and comprise the following, independent members:
- Philippe Bailly, chairman and chief executive officer of NPA Conseil, who specializes in media and digital services and provide benchmark analysis and strategic support for players in the market.
- Stéphane Tijardovic, Divisional Commissioner, French Ministry of Interior
- Dominique Varenne, General Economic and Financial Controller of Industry, Energy and Technology of the French Ministry of Economy
- Franck Veysset, Head of the National Government Agency CERTA, responsible for cybersecurity in France.
The second commission, which will look into the attractiveness and ethicality of the French sports betting market, is led by Jean-Louis Valentin and Alain Moulinier from ARJEL, and its independent members comprise:
- Raymond-Max Aubert, Chairman of the Board of the National Center for Sport Development;
- Stéphane Bitton, sports reporter for print and internet;
- Bernard Bucket, Vice-President of the French Rugby Federation, designated as a representative of the French National Olympic Committee;
- Daniel Hette, Secretary General of the French Tennis Federation, designated as a representative of the French National Olympic Committee;
- Laurent Damiani, President of the French sports marketing association Sporsora;
- Thierry Lardinoit, Chair of International Sports Marketing from foremost business school ESSEC;
- Jeff Reymond, representing the National Federation of Sports Associations and Unions;
- Fabrice Rigobert, radio sportscaster.
In addition, both commissions have been authorised to interview "any person it deems useful" in any market sector and will consult with ARJEL-approved operators and their associates on a regular basis.