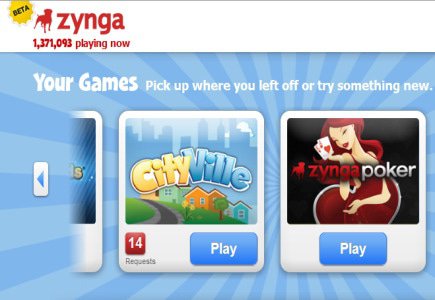 Platform offers all the popular Zynga products
Not long after the announcement that it plans to develop its own gaming platform, social gaming giant Zynga has gone through with the plan and launched the platform in open beta format.
The platform can be accessed through Zynga's .com site, and it provides users with the possibility to play Zynga Poker, CastleVille, CityVille, Hidden Chronicles and Words with Friends.
It appears that the interest in the platform is great, as over one million players have already begun playing on the site. According to Zynga's statement regarding the platform,
"We're really excited for you to try out the new Zynga beta site. We created it for you, our players, to make playing your games more fun. We are counting on you to help us make this the best destination for play. This site is for you and your feedback and ideas will be invaluable.
"Here are a few of things we focused on while creating the Zynga site:
"Your Games. You can play the games you already do without losing any progress or game neighbors. Pick up your same game right where you left off.
"Faster Progress. The site is loaded with all kinds of ways to help you progress faster while you play your favorite games.
"All About Fun. Zynga.com is dedicated to games and the community of people who play them. We want you to be able to connect with people from all around the world who love to play games like you do.
"It's safe. You can control how you share and interact with others that are playing.
"The site is in beta and you may experience a few issues while you play, but you will still be able to have plenty of fun. For our players that are the first to play on Zynga's .com site, you'll get to experience a few special items including the ability to share and get help with everyone playing your games on the site. Also, your feeds will be available on both Zynga site and Facebook so your friends playing on Facebook can still help you."