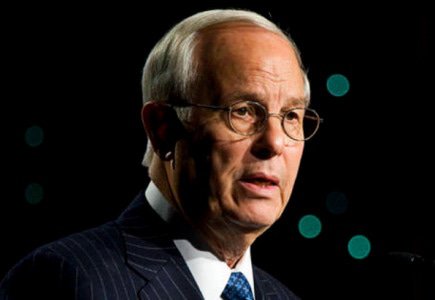 Fahrenkopf says that "...every form of legal gaming must be treated the same and fairly."
Frank Fahrenkopf, head of the land casino trade body American Gaming Association, told delegates at the iGaming North America conference in San Francisco that his organization wants to see all interested parties, including state lotteries and tribal operators, get a fair share in the emerging industry sector.
"I try to tell our lottery friends this all the time ... that every form of legal gaming must be treated the same and fairly. No one gets a leg up on anybody else. That's been our position all the way through," said Fahrenkopf.
Following his address on Wednesday, in an interview with Associated Press Fahrenkopf claimed the federal legalization is a more favored option for the organization but that competing in a state-by-state legislative scenario would not be a problem for the land gambling groups in his organization. He added that federal legalization would help suspend the illegal online operators still accessing the American market, offer a more cohesive approach, and be more acceptable to certain parties.
He also said that: "Tribes are never going to agree that they've got to go to a state government to get approval to run something, so you have to have the federal government involved to be the agency to work with tribes on licensing and regulation. So you need a federal presence."
According to Fahrenkopf, it may cause a loss of political support for online poker legalization initiative if wider ambitions, including casino games, prevail. Nevertheless, emphasizing his support for a federal solution, he acknowledged it could be a tough call to get federal legalization through the national legislators because of the presidential elections influencing events in Washington until November.
AGA will continuously work with regulators in advancing regulatory reform, and will launch a new section of the AGA's website devoted entirely to the reform in order to keep interested parties fully informed with up to the minute information from a variety of sources. Both federal and state initiatives will be covered, and the association is considering the creation of a national forum for regulators and members of the industry to exchange views and concepts.
Richard Haddrill, the association's chairman, in his introduction of the new AGA website service writes: "This new section of the AGA website is designed to foster conversation among regulators, gaming professionals and other key stakeholders. It is my sincere hope that we can work together to make real progress that will benefit the entire industry while maintaining the commitment to compliance and integrity that are the hallmark of our business."