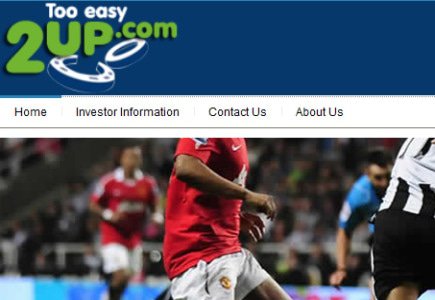 2UP Gaming ups the stake
The latest novelty from the Queensland-based Australian listed online gaming and entertainment company 2UP Gaming plc involves a memorandum of understanding closed regarding the acquisition of European based video streaming business Streamark, which develops applications based on streaming video, tracking and communications technologies for mobile telecom operators, TV network and cable operators and hardware manufacturers.
According to 2UP business development director, Peter Flynn, the acquisition has strategic importance for the company, as it will provide live streaming of content at a faster pace and reduced rate: "The Streamark technology gives 2UP a significant competitive advantage with a number of our live dealer gambling products delivered directly to mobile phones and tablets," he said.
He also added: "The biggest advantage of Streamark is its positioning and technology within the exploding internet protocol TV (IPTV) market and the ability to license their products.
"This is a new frontier for many businesses and start-ups in the delivery of content to mobiles, a sector in which Streamark provides a number of solutions including integrated billing and advertising services."
Flynn opined that since the fast-expanding markets such as China and India have embraced new smart phone technologies, a vast potential has been created with limited bandwidth.
"Streamark's technology can deliver HD video streaming for as little as 2mbps, compared with 20mpbs for standard broadcast, or 8mbps for one of the existing top mobile streaming providers," Flynn said, adding: "Its unique live video streaming technology can be used across a wide range of handsets such as Apple, Android, Symbian, Blackberry and WinMobile, running on mobile bandwidths EDGE, GPRS, to 3G and 4G.
"It's a complete end-to-end solution that takes care of all the aspects of running a full IPTV service and a perfect fit for 2UP's product offering."
According to a last year's test of Streamark's seamless pre-encoding optimising software, it provides a better and clearer image at a lower bandwidth, compared to other IPTV solutions.
It has been announced by 2UP that it is pursuing and is finalizing a number of other potential acquisitions and a major capital raising from a substantial private equity firm.