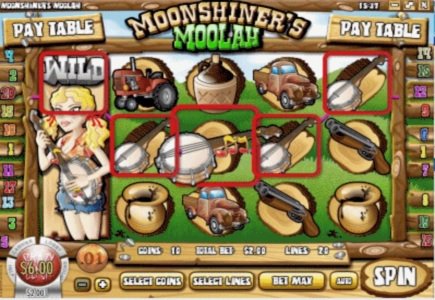 Hill Billies feature in the new release
A new title has been produced by the famous online gambling software provider Rival Gaming, partly based on the old television series "The Beverley Hill Billies."
In the slot, players hang out with moonshiners in the Appalachian mountains – hence the title Moonshiner's Moolah. The game involves these American hill billies, featuring a cast of colorful animated characters like Grandpa "Pa" and Granny, who brew their own powerful liquor in their old shack.
There's also Betty-Lou, their old Bloodhound dog, as well as loads of chickens, a banjo, an old pick-up truck, a tractor, a shotgun, a spittoon, and a bottle of moonshine.
As for its special features, this 5-reel, 20-payline slot involves the "Pick a Bottle" Mini Bonus Round, the "Chicken Shoot" Bonus Round, both of which can bring some major prizes.