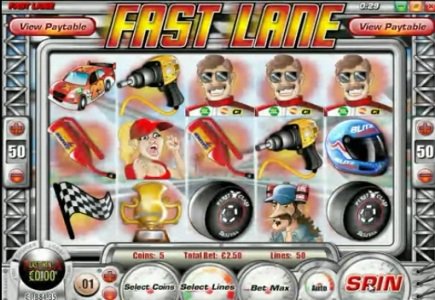 The most recent development from Rival Gaming is a new slot game with a speedy car racing theme. It features good cartoonlike graphics and audio providing a real race track experience with the sounds of revving engines and the roar of the crowd.
The new slot game called, Fast Lane is a 5 reel, 50 pay-line video slot featuring a control dashboard designed to look like a car, graphics displaying the inside of an engine and a variety of features.
Rival's Fast Lane gives players a chance to win up to 20 free spins, earn bigger payouts with expanding wilds and scatters and a creatively designed interactive second screen bonus round in which a pit stop is presented a interactive basis to get the car read the players scrambles to get the car ready for the race. The player earns cash for how quickly they can get the job done.