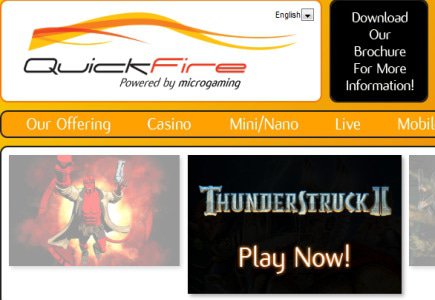 The first Quickfire Developers Conference was held last week and brought operators and development partners together to planthe future of the Microgaming-powered QuickFire platform.
The conference saw 40 operator delegates and 12 development partners take part in the QuickFire open platform strategy discussion. Open platform systems, independent software development and the anticipated "Development Partner Software Development Life Cycle" workshop were other items open for discussion.
The intent in holding the conference was to provide an open forum where companies could come together to swap ideas and gain knowledge from QuickFire technical specialists as well as add input to the QuickFire open platform strategy.
The feedback was good with Henrik Holmgren of Betsson, Richard Swann of Unibet, Stuart McCarthy of BetClic and Gary Wimbridge of Sky Betting & Gaming agreeing: "As panel members at the QuickFire Developers Conference, we found the event to be a refreshing approach to supporting the delivery of innovative new gaming content to the market. QuickFire has clearly taken the lead in bringing together development partners and operators in an open exchange that will undoubtedly lead to the benefit of all players."
Ashley Sandyford-Sykes, QuickFire spokesperson, said: "The event enlightened all parties as to each other's needs and the outcome is a united belief that a continued focus on the quality and innovation of gaming content is necessary."