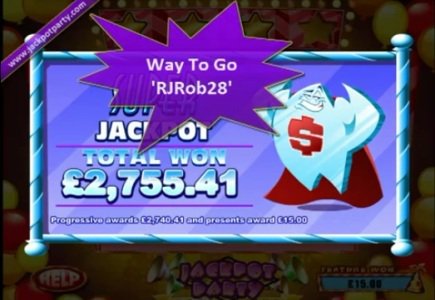 Great win for "RJRob28"

May 29 will certainly be remembered by one Latest Casino Bonuses member who experienced an amazing streak of luck at Jackpot Party casino, turning a modest deposit of GBP15 into a lucrative win of GBP3,020.

"RJRob28" (known as "LuckyRJ" at LCB) joined Jackpot Party casino in July 2011 and became a regular there, but not with much luck. However, this time was different for him, as he didn't play his favorite game, "SuperJackpot Party", but rather opted for "Riches of the Amazon" which brought him the great win.

Excited about his win, which he see couldn't see coming after his previous experiences with the casino, RJRob28 commented: "This win is kinda like a big game change for me regarding that casino; my plans will be to buy a new computer and some clothes and i am also giving some to my family, and i will also take them out for a nice meal."

Congratulations to the winner - this is definitely a case that shows it's worth hoping for a big win, as you never know behind which corner it's waiting for you...