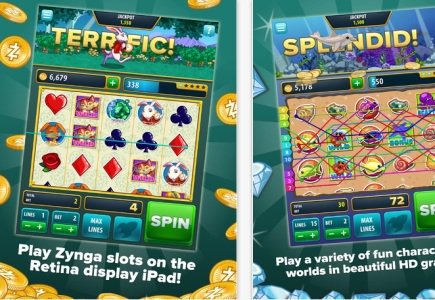 Main focus placed on iOS platform
Following the successful launch of its products Zynga Poker and Zynga Bingo, the San Francisco-based social gaming giant Zynga introduced the latest treat for its players - Zynga Slots. Despite the fact that its stock showed signs of heading south in the recent weeks, the company confirmed that it should still be very much accounted for by this week's launch of the slots.
Based on the popularity of Zynga poker and bingo products, the company again focused primarily on the iOS platform of iPhone, iPad and iPod Touch.
"As Zynga's second mobile casino game, Zynga Slots brings the thrill of Las Vegas slot machines to the palm of players' hands while introducing social elements for players to share the excitement with their friends," said vice president of Zynga Mobile, Justin Cinicolo.
"We're continually listening to player feedback on the kinds of games they enjoy playing, and we'll be sure to bring more high-quality iOS games to players based on the genres they enjoy."
Listing the main advantages of the game, Cinicolo underlined the following:
* Zynga offers offline mode, enabling players to use Zynga Slots anywhere, anytime, with minimal downloading times and smooth reel animations.
* Zynga Slots is the most social slots game so far, guaranteeing more friends and more winnings. Users can recruit friends to play and watch as the jackpot rises, or hop on a machine to help heat it up and reap the rewards. Owing to the Facebook integration and push notifications, users will always be informed when the jackpot grows or a friend wins big–and when it is time to spin again.
* Level-up gaming capability which unlocks rewards such as new machines featuring themes from popular Zynga games like FarmVille and Hanging With Friends. Dedicated players will also take full advantage of increased pay lines and higher betting limits for bigger risk and better rewards.
* New features like animations, mini-games and fun characters which move with each spin, inching players closer to "Fever Mode," a 30-second bonus round where they can spin for a bigger payout.
Zynga Slots is downloadable for free on iTunes for all iOS devices. It is worth noting that though the game is free, it encourages purchasing of in-game items with real money. As per iTunes, the top in-game purchase is a pile of virtual coins for $4.99. Zynga Slots is currently available in 10 languages.