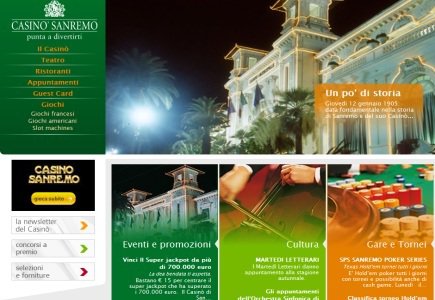 Italian land operator closes deal with Malta technology provider
A deal has been recently closed between the Malta-based live dealer technology provider, licensed in Italy, MediaLive and Italian land operator San Remo Casino, through which the casino will launch its offering online through the live dealer channel.
The .it domained Casino San Remo website will receive technology from MediaLive, so it can stream its action in real time, thereby enabling online and land players to gamble together. In addition, the San Remo internet action will also contain the option of streaming to third party MediaLive licensees.
"We have decided to offer live games from Casinò di Sanremo tables as a part of our online segment relaunch strategy, which we will finalise in summer through a wider game offer", it has been specified by president of Casino di San Remo parent Casinò Spa, Giuseppe Di Meco.
On behalf of Media Live Casino, its sales and marketing manager Angelo De Gobbi said: "Up to now no real [land] Italian casino has been so far-sighted; online games were considered as competitors. Casinò di Sanremo has been the first to grasp the huge potential of broadcasting the games directly from its prestigious rooms."