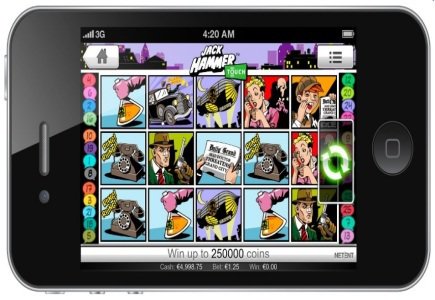 Mobile devices bring casino games closer to the players increasing the winning chances
38-year old Clare won €40 000 playing Jack Hammer Vs. Evil Dr. Wuten through Vera&John Casino on her mobile phone. The deposit on her balance account grew to reach the fantastic €40 000 proving that there are no limitations to the ways of winning maximal prizes via modern-day devices. Internet casino games on-the-go are not only practical, but also generous sources of entertainment.
"I never thought it would be possible to win such a large sum on my iPhone," Clare said commenting on her amazing prize. Her excitement was coupled with joy while she was explaining how it all happened.
"I sat on the bus and logged in to Vera&John. I previously won while playing Jackhammer so I knew it could be a winning game and decided to bet €260. A few minutes later I had €6 000 on my account", says Clare whose experience proved valuable as the incredible streak of good luck continued.
Namely, the initial prize was instantly followed by ten free spins which brought Clare another couple of houndred euro.
" When I had a couple of free spins left, I won another 15 free spins", she said describing the sequence of events.
It turned out that these 15 free spins were decisive as they positioned the reels in the winning combination adding €16 000 into Clare's account. As the free spins continued to come out, Clare continued the game with the unbelievable 50 free spins. And, then it happened again.
" I could not believe my eyes when I looked at my phone. Now I had a total of €40 000 on my account. And that with a bet of €260," explained Clare, recounting how she won the largest prize on mobile phone. Clare couldn't hide her emotions as she said that she won her annual salary on a bus trip.
Vera&John recently launched their mobile casino which has already recorded a few big winners, but neither of them won so high prize as Clare did this weekend playing the video slot Jack Hammer on her iPhone. Playing casino games on your mobile phone is easy at Vera&John as the players need simply to log into the website and follow the instructions.