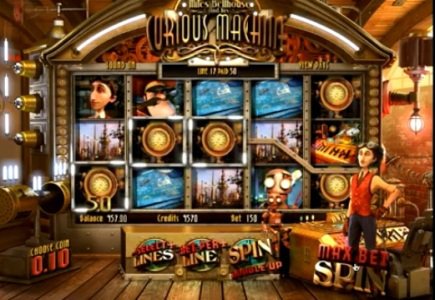 The creators believe the innovative design will attract players
Launch of the new video slot titled Miles Bellhouse and his Curious Machine has been announced by the internet gambling software developer BetSoft Gaming.
"Time travel as a concept has fascinated mankind for a long time, and blending that theme with the brash steampunk motif has produced a fun game. The characters are memorable and distinctive; you will come to feel the tension as Miles and Gizmo skip through time. We believe players have never seen another game like it," Anthony Locke, BetSoft's Head of Product Development says.
The game focuses on the invention of the genius Miles Bellhouse who uses his time machine to run away from the dishonorable General Traytor who is attempting to steal the technology. Miles is flung through time together with his robot companion Gizmo, meeting either ancient dinosaurs or futuristic scenery following each pull on the lever.
BetSoft's spokesman claims that this five reel, thirty line cinematic video slot boasts some of the most innovative bonus features ever seen on the market such as the interesting Vortex! Feature which increases winning chances by centering on an icon and then spinning all the surrounding icons in a rapid counter-clockwise whirl. There is also Rewind feature which sends a single reel spinning backwards in time, creating possibilities for new wins.