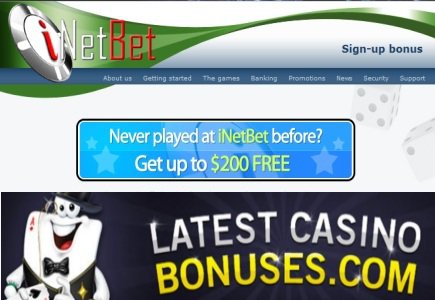 After many months of no luck at iNetBet Casino one of LCB's members can easily foot the next bill after winning a $2,026. Known as "footdr" to the LCB community, she first joined the forum in September 2011 and was ecstatic to share her recent big win saying "It was about time as I couldn't hit a bonus round or a good win for the past 3+months".
Footdr has been playing at online casinos since 2005 and her recent win at iNetBet was accumulative while playing slots on Jackpot Pinata, Ican Goddess and Bunko Bonanza.
When asked what thoughts were going through her mind after winning she said: "Thank God I finally won back some of my recent RTG deposits as I am broke".
This is not footdr's biggest win online: "The most I have ever won was at Casino Grandbay when U.S,. players were allowed to play microgaming software and it was on Break the Bank for a total of $14,000.00. I have also won a handful of random jackpots. The majority at Club World and two at Inetbet, all under $4000.00".
Asked if she has any plans with her big winnings she had this to say: "Pay bills and set aside about $200.00 for depositing at various casinos".
iNetBet is a Real Time Gaming casino and accepts U.S. players. Players can expect fast payouts in as little as three days once approved. They currently offer two Cashable Sign up Bonuses one with wagering requirements at 20x and 25x the bonus.