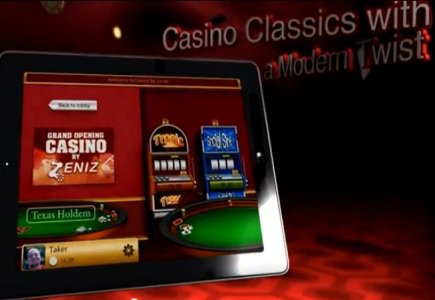 The Company Spokesman announces also plans for casino on Android platform
Update to Casino by Zeniz, a freemium casino application recently released for iOS, has been announced by Zeniz, a company for mobile social gaming services, jointly-owned by The United States Playing Card Company and digi117.
Live chat features, enhanced social slots, new player offers and an overall smoother gaming experience are some of the latest additions communicated by the spokesman this week.
Casino by Zeniz makes a full-featured social casino experience available on mobile phones, where punters can play social slots and Texas Hold 'em together with their Facebook friends. Release of Blackjack is planned for the near future.
Upgraded version of Casino by Zeniz includes:
• Live Chat - connection with other players in real-time via in-game instant messaging chats, plus language filters.
• Enhanced social slots - faster gameplay, new in-game animations, and less downtime between tournaments.
• New player rewards - weekly gifts are up for grabs, daily incentives for returning players, new discount chip packages
A company spokesman also revealed on Friday that Zeniz plans to launch the casino on the Android platform via Google Play.