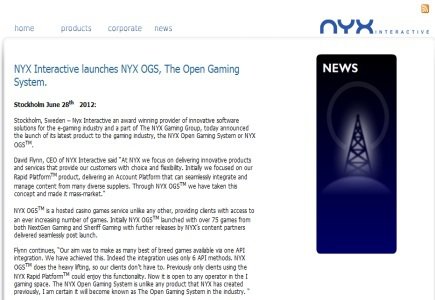 Product to be available to any i-gaming operator
Availability of Open Gaming System (OGSTM) to a wider audience is to commence this week, NYX Interactive announced.
The product is designed as a hosted casino games service launched with over 75 games from the NextGen Gaming and Sheriff Gaming studios.
Formerly, the product was accessible only to the clients using the company's NYX Rapid Platform, but with the latest developments it has become available to any i-gaming operator.
"Our aim was to make as many best of breed games available via one API integration. We have achieved this. Indeed the integration uses only 6 API methods. NYX OGSTM does the heavy lifting, so our clients don't have to," said David Flynn, chief executive officer of NYX Interactive.