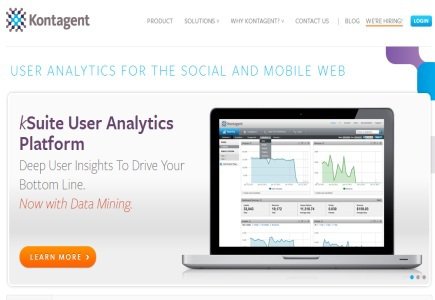 Kontagent and Clarion Gaming partnered to carry out the exercise
A new study of the current social gaming trend and its convergence with the internet gambling industry has been announced by Kontagent, the social and analytics research agency, in partnership with Clarion Gaming, the organisers of the annual EiG conferences.
The research results will be presented and discussed at the next EiG conference, planned for 16 to 18 October in Barcelona.
It's been perceived as a timely exercise in view of the social gaming massive publicity and growing numbers of companies joining the market.
The first step of the project is the launch of a survey designed to collect views, expressed by both social game developers and gambling operators, on the convergence between the two sectors.
Jeff Tseng, Kontagent CEO and Co-Founder said: "Social casino gaming is a major category for us--our customers are using our analytics platform and services to understand what appeals to their players so they can build more lucrative games."
"There is increasing demand for our services from both online and land-based casino operators, as well as social and mobile game developers who are interested in building casino-style games. [This project] will give a deeper understanding of the casino landscape to the entire industry." he concluded.
Positive expectations were expressed also by Ewa Bakun, Head of Content for EiG:
"Kontagent, with its expertise in the social gaming space and, in particular, with its insights into the social player analytics, is a perfect partner to help us provide a more in-depth and detailed analysis of how the two sectors collide from the players' perspective,"
The rise in popularity of social casino-style gaming has been named the hottest gaming category of 2012 for surpassing even farm games on Facebook.
It is being examined closely by the gambling sector where high-profile acquisitions have already started including Doubledown by IGT, Playtika by Caesars and, more recently, Orneon by Bwin.party digital entertainment.