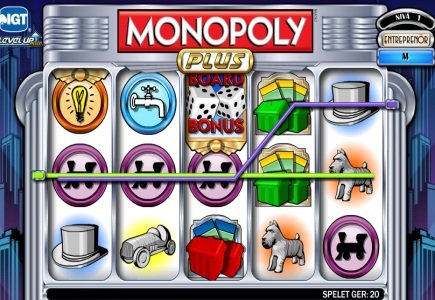 Wide range of innovative features expected to attract punters
The latest offering from the renewed partnership between International Game Technology's (IGT) and Hasbro has been titled "Monopoly Plus" featuring variety of innovative game play options.
The 5-reel, 30-payline game offers a completely new concept called "Level Up Plus" which allows the player to permanently increase their payout without interrupting the play.
The game contains levels, starting from the Entrepreneur and followed by Leader, Executive, Luminary, Baron and finally Tycoon, which the player reach by collecting Monopoly money in the Board Bonus round of the game.
Players are given 2 to 4 rolls in the Board Bonus round to make their way around the Monopoly board and collect as many cash and bonus prizes as they can.
Among other board features, there is also the Express Train where players are transported to the rich part of the board faster. Hot property affords opportunities to double players' mini-slot winnings and Super Tax Relief may increase the initial bet 16 000 times .
Other bonus features are activated at random. Mystery Wild Bonus can make fully wild reels and the Utility Bonus creates more chance of rewards.