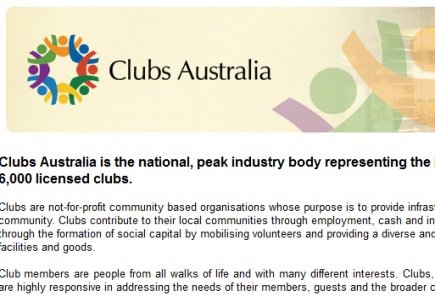 Clubs Australia says prohibition hasn't worked
In a response to government proposals after a review of the online gaming ban that has suggested the legalization of the pastime organization Clubs Australia issued a submission, stating that should the operation of online gambling sites become legal in Australia, it should be under the sports clubs' control.
It was assessed by Clubs Australia that since the current bans on internet gambling have not worked, Australians keep spending around a billion dollars a year on offshore internet gambling websites. What's more, the organization stressed, it is expected that in the next decade, local online gamblers could spend more than A$17.9 billion on such sites.
Also, Clubs Australia says that if casino games become allowed, clubs should be the only operator, since they are in the position to provide the most effective harm minimization. Further on, the organization added: ''Such a model would at the least feature existing club gambling policies such as a ban on credit card betting, a ban on inducements to gamble and a ban on advertising to non-club members.
''A locally based, club operated online gaming model would provide Australians a legitimate avenue for consumers to exercise their gambling preferences, and engage in an enjoyable activity within a safe and regulated environment.''
The pastime could be lucrative for the government coffers as well, according to Clubs Australia's modeling, which estimates the possibility of as much as A$4.7 billion in tax revenues over the next 10 years, while club-operated gaming could generate A$34 million in community funding over five years.
It was underlined by Anthony Ball, the executive director of Clubs Australia, that the organization is not lobbying to allow casino-style gambling online, but rather that "we strongly believe that if the federal and state governments choose to go down that path, then the safest way is through a club-based, not-for profit-model."