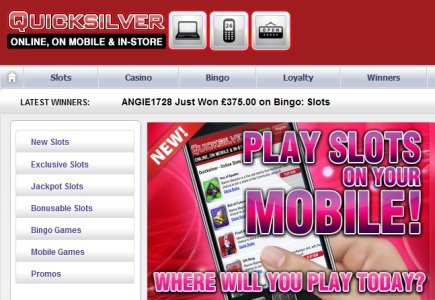 Cooperation with Play'n'Go becomes fruitful
An announcement came this week from Talarius-owned online casino Quicksilver that it has launched a mobile channel.
The mobile novelty, developed in cooperation with Play'n GO is a web application that enables customers to visit the Quicksilver site from whatever device they have. It has also been specified that the first games to be launched come from Play'n Go's portfolio and include Blackjack and Joker Poker, Fruit Machines such as Wild Melon, slot games like Jolly Roger, as well as exclusive Quicksilver games Winning Formula and Slots in the City.
According to Nick Pearson, technology director of Quicksilver, "We firmly believe that mobile has finally reached maturity, offering players the same playing experience as they do through our online slot games. With Smartphone/Tablet penetration now hitting over 50 percent of the UK population we believe the mobile casino platform will continue to grow and in the coming years more players will play slots through a mobile device than through a PC.'