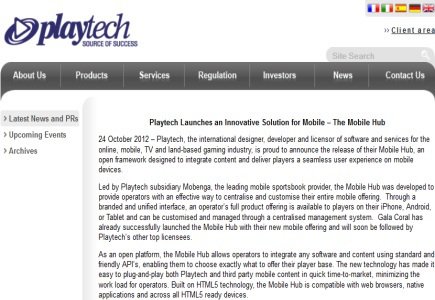 The latest novelty in the offering of Playtech mobile subsidiary Mobenga is "The Mobile Hub" - an open framework designed to integrate content on mobile devices, which will enable operators to effectively centralize and customize their complete mobile offering.
This branded and unified interface available for iPhone, Android and tablet platforms enables operators to provide their complete offering through a centralized management system, at the same time being able to select what their players will be offered.
In addition, the Mobile Hub is built on HTML5 technology, and is therefore compatible with web browsers, native applications and across all HTML5 ready devices.
Speaking about the new development, Mobenga founder and CEO Christian Rajter, said: "We are very proud of our accomplishments with the Mobile Hub and thrilled to see Gala Coral operating it to run their new mobile offering. By combining Mobenga's proven leadership in mobile technology with Playtech's strength in player management systems, we were able to achieve an extremely efficient tool, using the advantages of Playtech's strong back office to deliver the best mobile platform for operators via the Mobile Hub."