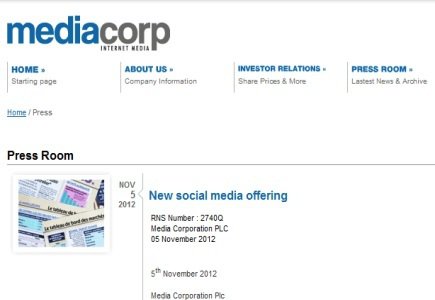 The owners of the beleaguered Purple Launge operation, Media Corporation PLC, announced the launch of a mobile, digital and social network advertising service this week.
The new service will operate through a newly formed company named Media Corporation Social Networks in cooperation with the company's advertising division Eyeconomy. Through it, its clients will be able to profit from their social media presence by keeping controls on the commercial channels around the site.
YZ UK Ltd, a franchisee of the YuuZoo platform is a partner in the venture and will therefore split all the revenues generated 50:50 with Media Corporation Social Networks.
Commenting on the new launch Mark Butt, managing director of Eyeconomy, said: "Our relationship with YZ UK Ltd., the UK, USA and Australian franchisee, gives us access to incredible technology and growing audiences, and in return we are able to help their clients derive revenue from their social media presence."
was added by Phil Jackson, Chairman: "Social media and how to get it to make money has presented a challenge for brand owners, who invest significant amounts of money in advertising to acquire a customer, then direct them to a social network environment where they lose control of that customer and the commercial opportunities. Our new service meets that challenge and I believe offers a significant opportunity for us. Obviously, we see social media playing a significant part in the launch of Intabet."