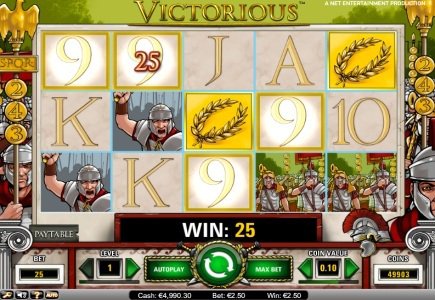 Reporting on another lucky winner, Vera&John Casino joyfully announced that their Swedish customer who has been playing at the online casino for over a year, hit it big, winning over Euro 70,000 in just a couple of hours of play.
Namely, he placed some high bets of €100 at a time, which paid off big time when he hit a round of free spins on the "Victorious" mobile slot, which brought him healthy Euro 26,000. Then, a bit later, on a €101 wager he hit over 70 free spins, which brought him another Euro 54,000, for a total payday of over Euro 70,000!
Talking to the casino about his lucky strike, the winner said that his main motive for playing slots is not winning, although he's thrilled about the prize, but that he's rather interested in entertainment. He said he enjoys wagering on both his computer and mobile, when he's on the go.
This construction industry employee expressed his joy about his big win, but was still not sure what to answer when asked what he plans to spend the money on, saying: "I have no clue; I guess time will tell..."