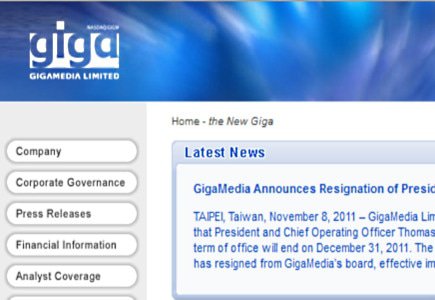 GigaMedia Limited has appointed its new chairman Mo-Na Chien replacing Michael Ding who resigned this position for increased commitments with other business interests such as being the chairman and CEO of Waterland Securities Co. Ltd.
GigaMedia said that Chien has been a member of the GigaMedia board for the past two years leading several investment, finance, and technology firms and is well suited for the challenge.
Appraising the change Ding said: "GigaMedia's turnaround is on track with leaner operations and new growth strategies now beginning to deliver improved financial results. It is the right time for a leadership transition and I have absolute confidence in Mo-Na's ability to lead GigaMedia forward."
Other board appointments include: Collin Hwang, currently a chairman and chief executive officer of Datadot Technology Asia & Taiwan, chairman of Cita Investment and Technology Development Co. Ltd and chairman and chief executive officer of Cita Aircargo Service Co. Ltd., and Casey Tung, existing board member, who will replace Ding as Chairman of audit committee.
The latest board leadership changes bring GigaMedia's board to nine members with than a majority as independent directors.