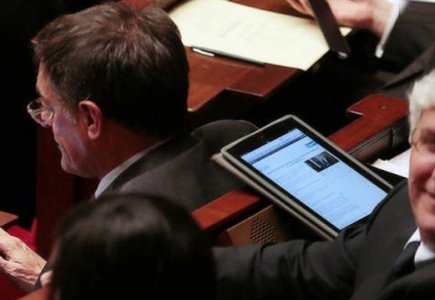 This week a report was released regarding the French members of parliament. Rather than focusing on debate speeches, MPs fired up their iPads and mobile phones for a bit of online poker. Other activities included online shopping and reading adult themed cartoons. Journalists seated in above balconies noticed the goofing off and took several shots of the MPs.
These acts have prompted requests for the French parliament to use technology to make it impossible for phone to be used during sessions in the debating chamber. Currently there is a scrambling device to prevent parliament from drifting off on their mobiles; however the new Socialist speaker of the Assembly has opted not to use it and poker playing has occurred as a result.
"One doesn't elect representatives of the people for them to turn up and play cards", said Jean-Louis Debre, president of the constitutional council of France who implemented the scramble technology during his terms as speaker. "In that case, I'd frankly rather they didn't show up at all. It's execrable for democracy. When debating a bill, an MP must be alone with his conscience and his ideas."
Debre turned to French parliament in the hopes of creating some legislation that outlines the use of mobile devices.