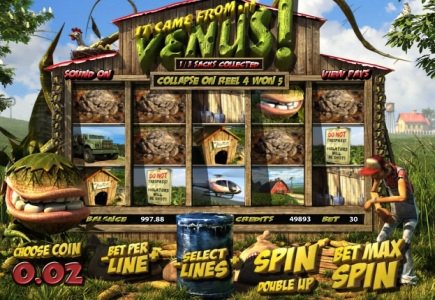 Christmas is early this year in case of an LCB member, John B, an engineer originally from North America but now living in Bahrain, who recently hit a major prize of $55,255 on a $150 bet placed on the 'It Came from Venus' slot at the Tropezia Palace Casino.

Commenting on his big win, John B. said: "At first it didn't seem quite real. To be honest I went on the casino whilst on holiday, wanting to simply spend a little money on some slot entertainment, and I'd heard that you had to bet big to win big. So I started betting maximum bets and soon enough I saw that 'big cash prize sign' suddenly pop up and the numbers just kept on rolling! I had to double check I was playing in Real Mode!"

Asked whether he's ever won this much before, the lucky punter responded: "Never, or even come close to. It was a great feeling. I actually managed to grow my pot to up to $80,000 at one point, but just kept on playing and came out with a hefty 50k in my pocket. I figure I had to give the casino a chance to get some of the money back."

He also expressed his appreciation of the slot that brought him the win, saying it's certainly among his top ten favorite slots now. He also added: "I played a few others at Tropezia Palace, but for some reason I kept being drawn back to play on this slot. I think I had about 55,000 little reasons calling me back."

Finally, John B. praised Tropezia Palace, an established and popular Betsoft-powered online casino launched in 2010. Describing his playing experience at the venue, he commended the graphics in the games and the smooth game play.

"The support team have also been really great, helping me out with my first withdrawal at the casino. Will definitely come back and play again," he concluded.

Once again, congratulations on the great win! It's always a pleasure to hear such success stories!