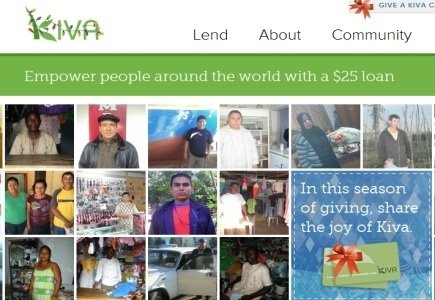 The members of Latest Casino Bonuses (LCB) are well familiar with the amount of novelties the site has introduced over the years. The latest one may be the most noble one so far, as it involves helping those in need in time for the holidays.
In an attempt to spread holiday cheer among the less fortunate among us, LCB has sent an invitation to all casino, bingo, poker and sportsbetting operators and partners, asking them to join their charity fundraising initiative through Kiva, a non-profit organization whose mission is to lessen poverty rate by allowing people who can afford it to lend some money to those in need.
Everyone interested in taking part in the initiative can do so by joining a specially formed LCB Kiva Team and making a loan, for which they'll be repaid (usually within a year ). Afterwards, they can re-loan it or take the money back.
The benefit of being charitable and helping the LCB cause is that those who partake will be placed on LCB's Homepage list of Most Charitable Casinos and on the LCB Charity page, thus getting free exposure and climbing up the ladder on the all-time donator list.
However, this is not the only fundraiser LCB plans to do – its future initiatives will include more charity organizations, such as Red Cross/Moon and many others, so Christmas and New Year are not the only time of the year when such great actions will happen.
If you are interested please send us an email to marketing @ latestcasinobonuses.com