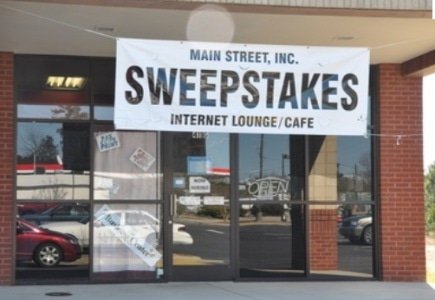 The policy on Internet sweepstakes cafes laid down by the American Gaming Association, a trade body that represents the interests of most of Nevada's major land gambling companies, has been revisited this week, and it was established that this type of gambling produces earnings of $10 billion a year.
According to the AGA, "The businesses, which are designed to take advantage of state sweepstakes laws and avoid state anti-gambling laws and gambling licensing restrictions, are estimated to earn more than $10 billion a year with games that closely mimic the experience of traditional slot and video poker machines but without the consumer protections required of commercial gaming operators."
The Association also noted that in recent years, thousands of Internet sweepstakes cafes have sprung up in more than a dozen states, despite state anti-gambling laws and gambling license requirements.
Since the legal landscape has changed in many states where such cafes operate since last year when the AGA released a white paper on the subject, the association therefore decided to revise the paper and introduce the following updates:
"After making very little investment, these rogue businesses spread quickly and become entrenched, posing a threat to existing state-licensed businesses and the thousands of jobs they create.
"Although they often claim otherwise, Internet sweepstakes cafes sell games that involve prize, consideration and chance and, thus, are engaged in the business of gambling.
"In the vast majority of communities where they operate, cafes lack regulation of (1) the integrity of the owners and operators, (2) the fairness of the games, (3) the exclusion of customers too young to gamble, and (4) their location, including the proximity to schools or churches.
"They do not educate customers about responsible gaming or contribute funds to combat problem gambling. In addition, neither the cafes nor the software companies that support them pay state or local gaming taxes. To the contrary, their largely unreported profits may siphon revenues from state-authorized businesses.
"The American Gaming Association believes that strict regulation to protect consumers is the cornerstone of gambling policy and should apply to all forms of gambling. Responsible public policy should prohibit Internet sweepstakes cafes, as numerous states have done.
Regarding these new moves, Frank J. Fahrenkopf, Jr., president and CEO of the AGA said: "Sweepstakes cafe proprietors claim that these under-the-radar businesses don't constitute gambling and would like to continue to operate without the accountability of normal gaming establishments, but if they aren't controlled, states, existing gaming businesses and consumers all stand to lose.
"That is why the AGA is educating governors, state legislators and regulators about this threat and working with them to deal with these establishments."