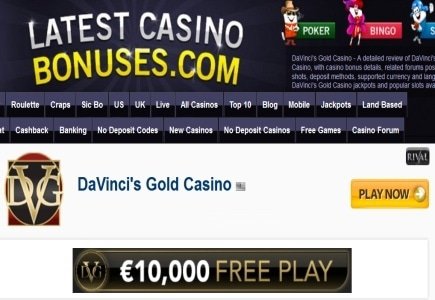 The latest reports from the DaVinci's Gold online casino involve news of a massive winner identified as Nicolas, who turned his Euro25 deposit into a take-home of Euro100,000!

Thanks to finding the casino on LatestCasinoBonuses, Nicolas made the deposit and played with Euro10,000 the Challenge contest where he won the life-changing sum. Prior to this, he had tried the €30 -> €60,000 contest but not with such success. However, liking that one made him deposit money and test his luck again – fortunately!

Asked about his emotions when he realized he'd won the Euro100,000, Nicolas said: "It's still hard to realize, I think I will start realizing when the money will be here... Currently it's still a kind of a dream! But my first feeling would include heart race and relief as we are currently emerging from a not-so-good financial situation/bad luck period and with 4 kids, well..."

Regarding his plans with the monies, he noted that "First thing will be to get rid of our debts, surely go on vacation, save a bit for later and eventually invest a little, who knows."

What makes this win so magnificent is that the player has not been active in online gambling very much – he's been playing at DaVinci's Gold for two weeks, and before that he played in only one other online casino.

"The first time ever I tried an online "money" game was back in January 2011," he noted. "Then in October 2012, I found the website LatestCasinoBonuses and you know the rest of the story."

As for his favorite games, they include slots: Sharewood Forest of Fortune, Astral Luck, Wild Carnival and table games such as Five Cards Poker. "I won the most in Astral Luck, I think once €8,000 on a bonus round," he said, promising to return to both LatestCasinoBonuses and DaVinci's Gold for another try at his luck.

"Thanks a lot and thanks again you've really enlighten this holiday season. I'll be starting 2013 on new bases and knowing that feels damn good," he concluded.