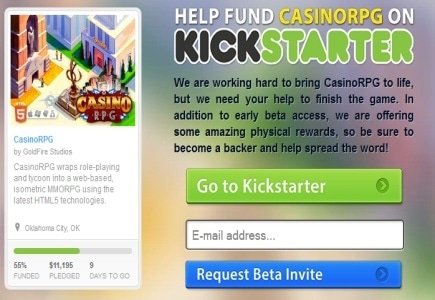 An ambitious online casino project is being pursued by the start-up motivator Kickstarter, in which Goldfire developer boss James Simpson has brought together what he claims to be an evolutionary combination of role-playing, social gaming and casino games on an instant-play, HTML5-based massive multiplayer platform.
Known for his online poker product, PokerRPG, Simpson is working in his Oklahoma City-based Goldfire studio on CasinoRPG which is currently at an advanced stage and carries a range of casino games, including poker.
"The reason I started PokerRPG in 2006 was because I loved poker and I loved role-playing games but there was nowhere to play both at the same time," he says on Kickstarter, adding that his CasinoRPG product extends the whole concept and improves it with new technology and features.
In it, player's roles will start from casino janitors and then climb up the ladder to eventually become the casino owner. "As a casino owner, you can actually design and run your own casino, other people can visit your casino, and play your own games with others as well," he explained.
Specifying where the ideas came from, Simpson said that he has played online poker on sites Pokerstars, Party Poker and Full Tilt and studied the structure from a player perspective. He assessed that "They all have solid pieces of software, but the common thread I've seen lacking has to do with communication. I almost never saw things like chat utilised by players at these sites."
This brought him to believe punters should have every opportunity for communication and personalisation at the tables: "These are aspects that could still work well on real-money tables," he asserted.