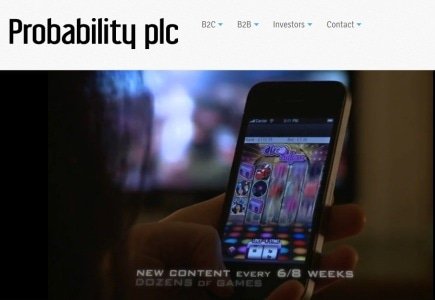 Probability plc, a mobile gambling technology provider has conditionally raised GBP 2.8 million through the placing of 4,421,875 new Ordinary Shares with both new and existing institutional shareholders, it was announced this week.
The Placing Price of 64 pence per Ordinary Share is at a discount of 5.2 per cent to the closing middle market price of 67.5 pence per Ordinary Share on 28 January 2013. It has been underlined that these placing shares will represent 13.1 per cent of the company's enlarged issued ordinary share capital immediately after completion.
Specifying what the company will do with the net proceeds of approximately GBP 2.6 million, the statement notes that the money will be used to further expand its B2C business, through an additional marketing investment targeting UK consumers. Furthermore, it will also help the company to pursue opportunities in its B2B business in the UK and Italy.
"We are delighted to have achieved strong institutional support for this placing, which was oversubscribed. The proceeds will enable us to accelerate marketing investment in our UK B2C business, and build upon the momentum which we have achieved to date. We will continue to maintain our disciplined approach to marketing investment, with a focus on payback period and return on investment. Our B2B business is also entering an exciting stage in the UK and Italy, and the proceeds will also provide additional resources to pursue opportunities in this area," said Charles Cohen, CEO of Probability.