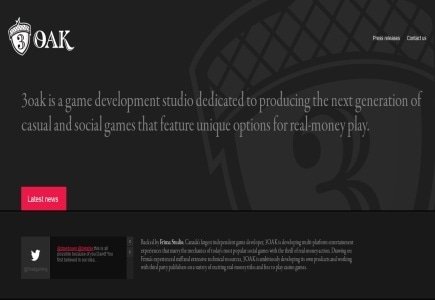 News came this week of another social gaming partnership struck by Betable, that with Frima Studio based on which its platform will power games developed by Frima's newly-launched real-money gaming division 3OAK.
In addition, 3OAK will also develop original titles that incorporate real-money play mechanics into social gameplay experiences.
Commenting on the deal, Betable founder and CEO Christopher Griffin said: "Frima's bullishness on real-money social gaming is evidenced by the creation of a new division of their company that will focus on the opportunity and we couldn't be happier to be powering it for them.
"With their resources and experience, we're confident that 3OAK has the vision and skill necessary to produce innovative, industry leading real-money titles."
It was added by his Frima Studio counterpart, Steve Couture, that "With real-money gaming growing briskly and expanding into new territories, we see the opportunity to leverage our development talents in a nascent industry and Betable is the best method of entry.
"As the market continues expanding, free to play developers will adopt real-money play to boost monetization, engagement and retention. 3OAK powered by Betable will be there to meet the demand."