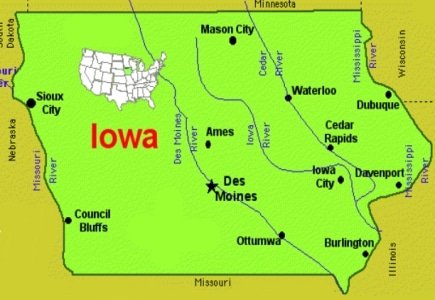 Thursday 28 February was the D-day for the State Study Bill 1068 in Iowa when a state senate sub-committee approved the so called Senator Jeff Danielson's bill.
It is the second attempt to legalise intrastate online poker provided by existing licensed land casinos - the first had failed in the House last year, although it managed to pass the Senate.
However, the committee members agreed that there is a need for the state to keep up with the fast-moving legalisation scene in Delaware, Nevada and New Jersey, and therefore the three of them voted 2 to 1 to forward the measure, while the Republican Party member opposed the proposal.
The bill itself calls for the Iowa Gaming Commission to regulate online poker in homes and casinos hoping to generate up to $13.2 million in tax revenue. Though, a poll recently conducted by Selzer & Co. of West Des Moines, which comprised 802 Iowa adults, showed that nearly three-quarters of them opposed legalisation, and are in no hurry to gamble at their home computers.
The sponsors of SSB 1068 - Senators Jeff Danielson, Wally Horn, and Randy Feenestra - said that it now goes to the full committee and will be probably heard next week.