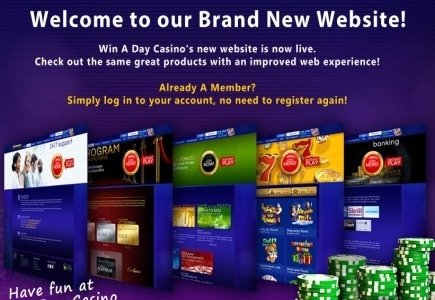 Famous for its unique games and proprietary software, WinADay Casino has given its site a complete makeover, introducing its clients to new slots, simpler cashier and a personalized lobby.

Other innovations that the players will benefit from include simplified navigation bar with New Games, Slots and Video Poker tabs, a "Penny Slots" button which will be launched in near future, all of which combined should make browsing and choosing a game much faster and easier.

Discussing the new look of the site, the casino manager Michael Hilary said: "One of the reasons we re-designed the site was to accommodate our new Penny Slots. Now that the rest of the instant casino site has been upgraded we'll add those very soon. Until then we'll keep the details a surprise but I think the caption on the button gives you a pretty good idea!

"We've made some big technical changes that a lot of people might not notice right away. The web has changed a lot since we had our last makeover. Our new site uses the latest web technology to run smoother and faster."

In addition, he praised his co-workers, noting: "We have an extraordinary design team. Their graphics and animation have gotten more and more amazing over the years. But I think the biggest change I've noticed in the games themselves is that the bonus games that are built into the newer games are getting quite elaborate. They're fantastic games on their own and they can really add to your winnings!"

To remind our readers, in December WinADay presented its new, Arctic-themed online slot Wild Alaska, which brought the total number of games offered by this developer to 35.