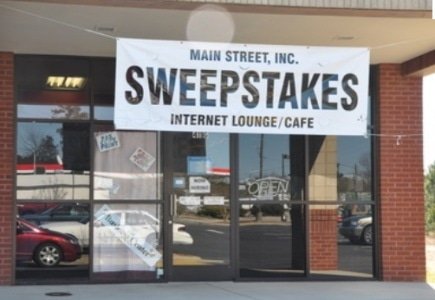 Ohio Attorney General Mike DeWine and Cuyahoga County Prosecutor Timothy J. McGinty announced that Ohio has joined Florida, North Carolina and California in cracking down hard on illegal 'sweepstakes' style gambling in Internet cafes.
Local police, the Ohio Highway Patrol and the Cuyahoga County Sheriff's had visited a number of Internet cafes operating in Cuyahoga County and executed search warrants, one of them at the home of the VS2 president Bill Cornick.
At three of the premises visited, owned by a company titled VS2 Software a supplier of video lottery terminals (VLTs), the police seized 352 VLTs along with several bank accounts.
Supporting the county prosecutor McGinty in his intention to shut down all internet cafes operating illegal gambling in the county, Ohio Attorney General DeWine characterised the local internet gambling scene as "the Wild, Wild West".
DeWine's department has created an internal unit to help the police and prosecutors investigate illegal gambling at Internet cafes. He also revealed it was a collaborative investigation carried out by the Cuyahoga County Prosecutor's Office.
They were working in conjunction with his Office, Bureau of Criminal Investigation, Ohio Investigative Unit of the Ohio Department of Public Safety, U.S. Postal Inspection Service, U.S. Secret Service, Parma Heights Police Department, and several law enforcement agencies in the state of New Jersey.
On top of that, the Ohio State Highway Patrol statement says that a total of eight Internet cafes were visited where liquor establishments were operating illegal gaming machines although liquor permit premises are prohibited from operating illegal gaming, and OIU can provide law enforcement assistance and expertise when requested.
According to legal representatives for the Internet cafe operators the authorities had overstepped their authority, while the initiative came from local land casino operators wishing to kill off potential competition by backing legislation to outlaw Internet cafes. The legislation has passed the House and is now in the Senate.