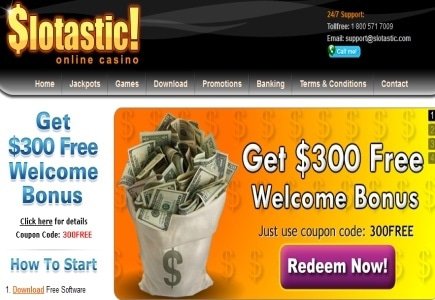 Great news came from Slotastic Casino last weekend when a slots player Robert E. earned a massive sum of $95,000 after making the right decision to cancel his payout request.

The slot that brought him so much happiness is Loose Caboose, on which the 59 year old player won a $35,000 jackpot almost as soon as he started playing. He kept playing the slot for the whole weekend, earning another $60,000, so by Sunday night he could boast $95,000 on his account.

Explaining how it all happened, he said: "That jackpot sure got me off to a great start. Then I kept getting free spins that really boosted my wins.

"You know, when you're getting old, you don't see too well, so I did a double-take when I heard the winnings! I had to get my wife to come over and see how much I suddenly had in my account. She couldn't believe it either -- but her eyes are better than mine and she said I sure had won a pile of money!"

However, revealing what he'll do with the money, Robert said he won't be splashing it around: "I am a very low key person, so I won't splurge with all this money. But that's not to say we won't take a nice trip in the near future," he added.

Regarding the game that brought him the opportunity to retire early, he said: "I love that game Loose Caboose. It's my absolute fave, even when I am not winning! For me it's the entertainment that counts, although winning sure has its pros!"