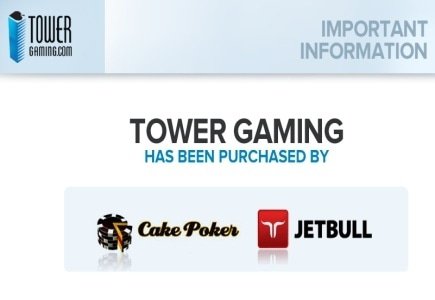 This week, a veteran in the online casino and poker sector, Tower Gaming, issued a statement informing the public that it is closing its virtual doors.
Although failing to provide reasons for the closure, the company revealed that it has been purchased by Cake Poker and Jetbull Sportsbook.
On the occasion, the company also informed players that their accounts have been moved to the new owners, with Jetbull taking over casino and sportsbook clients and CakePoker (.eu) becoming responsible for all the poker action. In addition, affiliates were asked to re-register in order to continue doing business with the new owners.
Addressing its players, Tower Gaming noted that it had become apparent that "...we're no longer able to provide you with the level and quality of customer service we'd like to offer and you deserve," assuring them that the new owners have a larger variety of games, and that all the secure account information, funds, bonuses and even levels and player points will be maintained.
In related news, a small sportsbook start-up Blockbet (.net) closed after just three months of operations, apparently due to the recent rollercoaster rise and fall of the virtual currency Bitcoin which it used to accept wagers on NBA, NFL and NHL games and European football leagues.
Some days ago, the sportsbook owner-operator "Paul" informed players: "I think the time has come for me to retire Blockbet. Obviously with the NBA and NHL heading into the playoffs and soccer leagues with their summer breaks, there will be less games to cover over the summer, and I've made nothing but losses on baseball up to this point.
"It's been a great experience and a lot of fun, but it's also been a full-time job with no days off, so a small break from everything will be welcome. Also the sportsbook game is a lot more crowded than it used to be, and let's face it, some of these new guys can offer more features than we do.
"I knew from the start that it won't take too long for guys with more technical knowledge and more time to invest to come along, and I wish nothing but good luck for them. The sportsbooks offerings are now a lot stronger that what they used to be, and I'm glad to have been a part of that process.
"I'm gonna stay involved with Bitcoin, I have a lot of faith in the currency. I also have a couple of other ideas that I want to work on," he said, assuring players that he will work on pay-outs and the return of outstanding NBA bets, after which he closed his site down.