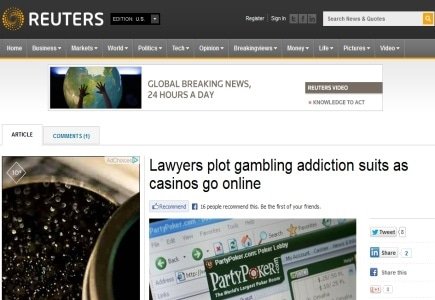 As the individual US states debate online gambling legalization bills, product liability lawyers in the United States seem to be getting prepared to capitalize on the prospect of problem gambling business, the Reuters news agency reports.
According to the agency, a group of lawyers and experts accomplished in the liability field got together last month to review the likelihood of succeeding in a lawsuit claiming internet gaming further promotes gambling addiction.
Comparing online gambling issue with the tobacco regulations, Reuters further reports that "the legal strategy under consideration would be modeled on the class action lawsuits that forced cigarette companies to agree to pay $206 billion over 25 years to compensate for medical costs, caring for people with smoking-related illnesses, and to fund anti-smoking advocacy groups."
The meeting titled a "gambling litigation study group" in Indianapolis was attended by more than 20 attorneys from high-profile law firms, Boston-based lawyer Scott Harshbarger told Reuters. Harshbarger is well-known as a former Massachusetts attorney general who was in charge of the state's efforts against Big Tobacco.
It has also been said that the Former Assistant U.S. Attorney Michael Fagan, famous for prosecuting 30 cases against offshore sports betting operations between 1997 and 2008, assisted in calling the Indianapolis meeting.
Gambling company representatives reject the charges of gambling industry critics who claim that casino businesses use deceptive practices to lure customerrs, rely on addiction for profits and should be held liable for the billions of dollars in costs to society. According to the gambling companies, their industry has a history of acting responsibly and helps to identify customers who may need treatment.
Reuters reports that David Stewart, a Washington-based lawyer and general counsel to the American Gaming Association, said that the courts rejected previous lawsuits targeting traditional gambling.
It is assessed that prospective lawsuits will be difficult as 2004 a federal appellate decision stated that millions of gamblers could not be considered a single class due to the fact that each gambles for different reasons.