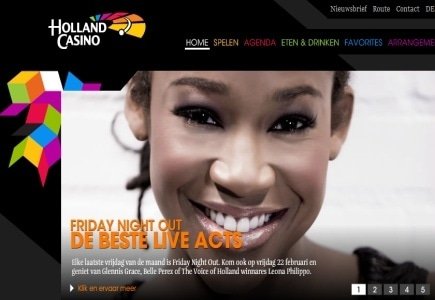 It appears that severe financial difficulties are amounting in the Dutch state-owned land gambling monopoly Holland Casino, as it was recently reported that in addition to the group's loss of Euro 652,000 in 2012, it was under more pressure in the first trimester of 2013.
Judging by a number of government statements, the soon-to-be-privatized group has been experiencing decreasing visitor numbers which fell 2 percent to 5.6 million last year while average spending per client fell by Euro 2 to Euro 96.
Due to this, it may be unable to meet agreements with the banks this year and it already announced back in November that it would need to cut some 400 of around 3,000 jobs. However, this time it said additional cost-cutting measures will be necessary.
According to the group chairman Dick Flink, "Our focus is on further reducing costs and making the organization more efficient and effective."
What may help the struggling gambling monopoly is online gambling, which has been under the Dutch government's consideration after years of opposition to the pastime. It is now believed that a regulated and licensed online gambling system, envisaged by a draft bill which is under review and due for presentation to parliament this year, may be one of the crucial factors in Holland Casino's recovery.
In line with this, in February 2013, Holland Casino issued a Request for Proposals, calling for experienced online gambling providers to come forward and initially set up a free-play website before end 2013, which could eventually become real-money sites when the relevant legislation is passed.
The RFP's results should have been announced in mid-2013, but only a month after the closing date for submissions, the casino cancelled the tender without providing explanations for abandoning its plans.
However, one of the statements from Dutch government spokesmen reveals that the Dutch may be considering emulating the Danish regulatory model. One of the spokesmen recently specified: "Holland is a small country and is leaning towards the Danish model in many aspects – closed liquidity would simply not be feasible and .com operators would still keep a strong market share."