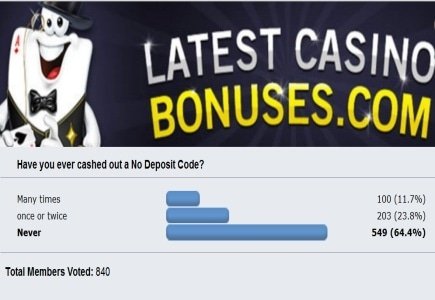 Freebies are one of those categories of online casino bonuses that everyone loves and uses at least from time to time because they let punters try out different games in real-money mode; however, questions often arise regarding their generosity when it comes to winning.
And even though this is not their primary role, freebies tend to turn into gold (i.e. real cash) occasionally, so Latest Casino Bonuses decided to conduct a small case study and see how much do players actually cash out on no deposit bonuses and how often.
And the poll results indicate that a great majority of players, 64.5% or 549 respondents, have never cashed out on a freebie, while some 23.9% or 203 players have cashed out once or twice.
Perhaps surprisingly for some, 99 respondents to the poll i.e. 11.6% said they won and cashed out many times on a free chip. Most of these sums do not exceed $100, although there is mentioning of sums that amounted to couple of hundreds of dollars, and even a few payouts that exceeded a thousand dollars.
In terms of the casinos where players most often and conveniently cashed out their free chip wins, the names of Jackpot Capital, SlotOCash Casino, Tropica Casino, DaVinci's Gold, Club World are among those most frequently mentioned.
Based on this poll, it can be concluded that no deposit bonuses do have monetary value for many of us, especially when one takes into account the fact that a number of punters revealed in the poll that they never cashed out on a freebie because they see it only as a way to try out different games rather than a money winning opportunity.