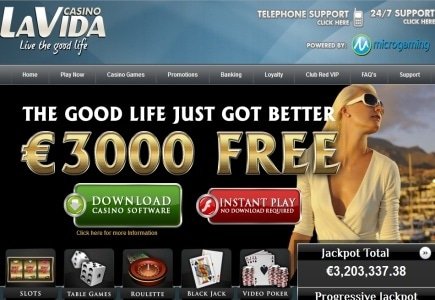 Winnings at Casino La Vida are gaining momentum this May, as the casino reports that they have paid out more than Euro3 955 239.00 in progressive jackpot winnings alone during the month!
In addition to its first multi-million progressive jackpot winner G.L. from Germany, the casino proved to be lucky for another German punter who decided to shift from his usual choice, the Thunderstruck II slot, to The Dark Knight slot on May 12.
The player identified as U.K. made a good choice, as he hit one of the slot's four different randomly-triggered progressive jackpots, winning Euro31,499.72.
The casino's promotions manager Victoria Lamonte expressed her joy because of these great wins, saying: "From setting a new record multi-million-dollar winnings record to paying out over €3 million in progressive jackpots, May has been a fantastic month for Casino La Vida – and we are only halfway through! We cannot wait to see what other winnings the rest of the month holds."