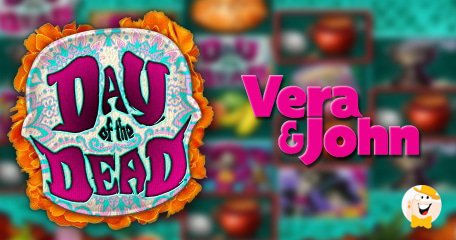 After hitting a hefty sum of Euro 36,032 on the new Silent Run slot at his favorite Vera&John Casino earlier this week, one of the luckiest players in the history of the online casino, identified as Johan, came back on a winning streak, playing another new slot, Day of the Dead.

Namely, Johan decided to give his luck another shot at Vera&John's with one of the newest online slots around – and what a success he enjoyed playing it; he just kept winning an winning from the very start.

After two days of playing it, the lucky punter recorded a total win of Euro25,800 – the money he could really use considering that he hasn't been able to go to work for some time.

He only told his best friend and his little son that he had won again, and he also said that he has almost become accustomed to winning at Vera&John, adding: "As a matter of fact I think I will give it another try. I'll talk to you when I win over Euro100,000," he told the casino in a phone conversation.

It didn't take him long to do that – within the next five minutes he hit Euro118,500 in just one spin! Another four minutes after that, he won another Euro15,700. Once again approached by a Vera&John representative for comment, he said: "This is completely crazy, he says. I've been wandering around my apartment not knowing what to do."

A day later, Johan decided to try his luck again on the Day of the Dead slot, and it's like he felt there's much more in it for him. Playing on the max bet, he saw another winning streak - within 21 spins he won Euro26,200; 8 minutes later he hit Euro122,300, and finally, five minutes afterwards he received his biggest win of the day, amounting to Euro171,215!

Regarding his amazing win which totalled Euro 479,715 and his future plans with it, Johan said he has been dreaming about buying a summer house, but as his winnings started increasing, he changed his mind and decided that he'd be better of with a new apartment for him and his little boy.