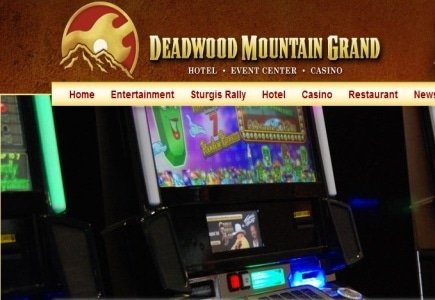 Winter is a traditionally tough period of the Deadwood Mountain Grand land casino in South Dakota, but this year its effects could be moderated as the venue is planning to introduce a free-to-play online gambling network which should enable it to maintain a business presence in the winter months, and serve as a foundation for any potential legalization of online gambling in the state.
Discussing the possibility of entering the social gambling arena with a rep from Williams Interactive, the online division of gambling supply and content group WMS, Deadwood Mountain Grand Casino general manager Brad Hemmah stated: "I want to do this. My vision was always to have a virtual casino. When you can get 7 feet of snow in 36 hours, weather events that have happened here before, you can lose entire weekends in Deadwood. People can't get here and when you make 80 percent of your revenue for the week on the weekends, that's a problem.
"I say the gaming public is ready for it because they can still have this entertaining activity they're used to and enjoy without worrying about icy roads and not being able to drive to Deadwood."
In addition to this, it is certain that Hemmah also has in sight the main benefit of such a novelty – the great potential of legalized real-money online gambling if and when it arrives in South Dakota, which would put him in a position to be the first to offer online wagering to his customers.
And while at the moment the Deadwood Mountain Grand website serves as a gateway to IGT's online social gaming offering Double Down Casino, Williams Interactive has other plans with it, seeing it as a chance to provide its "play-for-fun" games on a network basis which will see casinos sign up, pay a monthly fee and split revenues from social gamblers' credit purchases for the various games on both mobile and online platforms, which are offered through the casino's website.
According to Tom Nelson, president of the Deadwood Gaming Association, the past two decades have seen a real surge and a big change in gambling technology and the industry itself: "Back then it was pretty much just three-reel slot machines and card games," he said, expressing doubts that online gambling will be legalised in South Dakota anytime soon.
"I think it is doubtful that anytime in the near future South Dakota will legalize any sort of online or Internet poker games. However, when and if that happens, I'm sure there will be some Deadwood operators that will try to take advantage of the new laws," he noted.
A more positive opinion was presented by Weston Pleinis, the casino general manager at The Lodge at Deadwood, who believes legalized online gaming will eventually be a possibility in South Dakota.
"We have already had meetings with suppliers about this," adding:
"I think people like to play online slots for fun, but I don't think our market for real money online slots will be huge. I think there is a large market for online poker and other games of that nature. That's where there is money to be made. That will definitely affect our live play."
He also opined that instead of competing with online gaming, Lodge officials will embrace it. "I know we will follow the trend," he revealed.