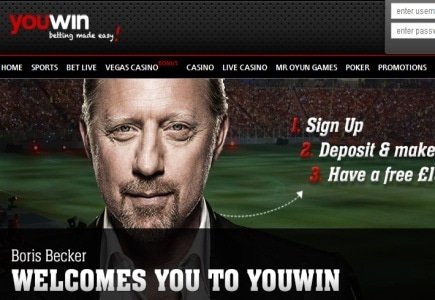 An announcement came this week that a Six Grand Slam tennis singles winner and an Olympic gold medal holder, the German tennis legend Boris Becker (45) will become the brand ambassador of the online sports betting company YouWin following a deal inked this week.
With the five-year agreement, Becker will become the company's marketing face and lead its ambitions in the new markets – those in Germany, Turkey, Canada and the UK.
Regarding the new company face, YouWin exec John Faley said: "This is exactly the right time to introduce a sporting legend who we think personifies our core strengths - ambition, dedication and commitment to entertaining the public."
Becker also commented on his new role, saying: "It's going to be a great summer of sport this year and if my prediction holds true it will begin with a one goal to three Bayern Munich victory on Saturday.
"Betting has always been an integral part of sporting culture and can create as much excitement for sports fans as the results do. So whether it's backing Bayern or looking forward to the French Open and Wimbledon, our aim is to ensure we continually engage fans."