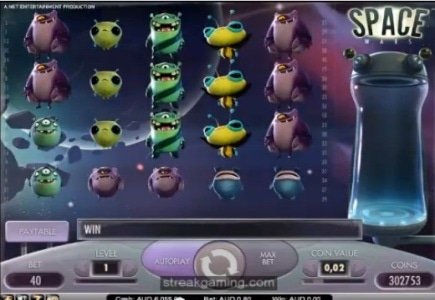 Haven't heard from Vera&John Casino's king of the wins, Johan, for a while? Well, he's back, and he's on another run of good luck, collecting almost Euro500,000 from the casino in the past half-week.
This time, he tried out the Space Wars, Diamond Queen and Beach slots, which brought new thousands of Euros to him. These were the titles that allowed him to play aggressively and wager huge sums, $450 per spin, which also helped him win big.
His first win came after only six spins on the Diamond Queen slot which paid him Euro50,760. Then, two minutes later he won another €27,900 and ten minutes after that another €46,780. In another 10 minutes that he played Diamond Queen he won another Euro27,000.
Moving on to the summer inspired slot Beach, he was placing Euro235 bets and almost immediately scored wins of Euro15,847, Euro8,430 and Euro53,447.
On his last stop in this session, Johan enjoyed a strike of good luck with one of the newest slots at Vera&John Casino, Space Wars. This one brought him many wins, including those bigger ones of Euro9,700 and Euro11,366.