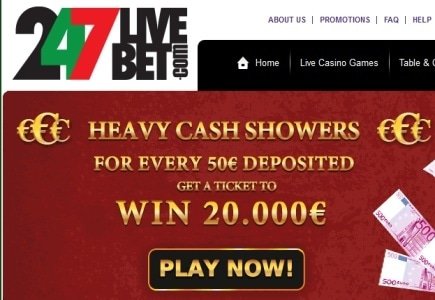 The latest innovation from Cyprus-based Finelink Ltd online casino provider is a new gaming platform at 247LiveBet Casino, which facilitates online gambling without any software installation whatsoever.
The only thing your computer needs to play on the 247LiveBet Casino site is Java – most computers already have it installed, which means that players will have free access to live casino games that will link them with some of the best casinos in the United Kingdom.
This is an excellent feature of 247Livebet which is among the very few casinos to offer such an opportunity.
The games available to punters of 247LiveBet directly from their browser include live casino games such as Blackjack, Roulette, Poker and many others. Both them and slots feature a new sound and graphics engine which employs high technology that offers a realistic live casino experience to home-based punters.
The platform enables its players to play in four different tabs at the same time – again, one of the firsts in the industry. Also, the company boasts the user-friendliness of its platform, which it claims has an intuitive user control panel that makes it extremely easy to make a deposit, play a game and access account details.
According to Constantine Komodromos, the company Business Development Director, "Here at 247LiveBet Casino, we have always been at the forefront of technology advances in the gaming industry, but we feel that this is our biggest accomplishment yet. We simply cannot wait for users to try out the new gaming platform that we have crafted especially for them. We know they will enjoy it and that it will take gaming to a whole new level for them."