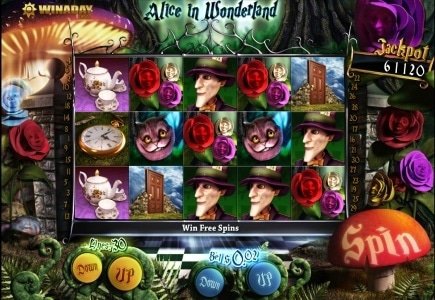 Launching what it says is one of its most lavish games to date, online casino WinADay this week presented a new online slot themed and titled after a famous Lewis Carol book - Alice in Wonderland.
Many of the popular characters from the book are featured in the 30-line slot, which allows players to wager as little as $.02 per line. There are also scatters, free spins and the Mad Hatter symbol which can change other symbols by throwing his hat onto them.
There are also wild symbols in shape of Tweedle Dee and Tweedle Dum, and the site-wide progressive jackpot to which the game is linked. It can be won with five "Queen of Hearts" on a minimum $5 bet.