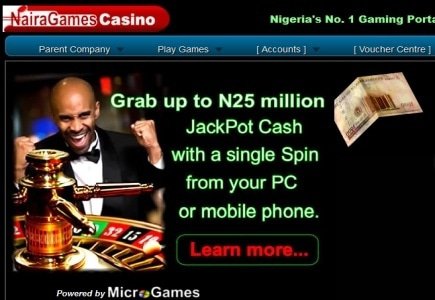 What is referred to as the first online casino in Nigeria has been launched by Microgames Networks, under the domain Nairagames (.com).
The company advertised the casino as featuring instant wins on "wheel of wealth" games and substantial jackpots in Nigerian currency. It has been specified by Microgames Networks m.d., Barry Nyong, that "The new platform is designed to make online gaming as easy as possible, with no software to install, requiring only flash player and java enabled computer browsers, which is today's global de facto standard for real time gaming.
"Nairagames.com is designed to provide both online arcade and casino gaming services, and is Nigeria's first and only online casino for now, providing only roulette gaming.
"Rewards for Nairagames players begin once they register online. New players are randomly awarded with N500 to N20,000 bonuses, and returning players between N2,500 to N15,000 just for logging in. Winners can redeem wins within 24 hours as these are transferred directly to bank accounts or via mobile payment. It can also take up to five days to redeem depending on amount won," he added.
Furthermore, Nyong said that the company strives to expand the use of re-charge vouchers to make payment to player accounts easier.
He explained: "We have taken gigantic leaps to facilitate this by enabling instant and secured customers payments via Visa card, MasterCard and Verve cards, over the internet, mobile and at ATM machines, courtesy of QuickTeller solutions from InterSwitch."